The company, which was initially founded as a cutting tool importer by the name of OSG Precision Tool Trading Company in June 1976, was reestablished as Suil Precision Co., Ltd. in the 3rd Industrial Complex of Daegu City in 1980 under the motto: "Localization of Cutting Tools" and has been developing and manufacturing cylindrical dies and flat dies for screw rolling that process male screws and contributing to improvement in the quality of cutting tools, which are key components of industrial machines, and to the development of national industries through the localization of cutting tools.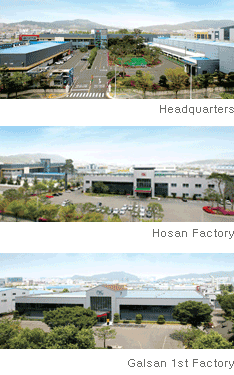 Recognizing the necessity of the transfer of advanced technologies for manufacturing best-quality products, the company changed its name to Korea OSG Co., Ltd. jointly with Japanese OSG Col, Ltd. in 1985, we extended the facilities with the latest equipment and began to manufacture different types of taps that process female screws. In addition, the company has achieved high growth every year since it moved the factory to the Seongseo Industrial Complex in Daegu in 1986. In 1988, furthermore, the company began to produce end mills, tools used in the milling process, leaping into a general cutting tool maker.
As the high quality of our products has been recognized, our company is currently an exporter of products to Japan and other countries in the world.




Through continuous investment in R&&D, we are meeting customers' diverse needs through developing and manufacturing spline dies, pulley dies, worm dies, lead screw dies, hard taps, shell taps, inter taps, hard end mills, minor-diameter end mills, high-speed machining end mills, etc.
Facilitiese
Facilities
Facility
Land Size (㎡)
Floor Space (㎡)
Headquarters
24,086㎡
(7,381 pyeong)
17,407㎡
(5,275 pyeong)
Hosan Factory
28,621㎡
(8,658 pyeong)
11,074㎡
(3,350 pyeong)
Galsan 1st Factory
12,086㎡
(3,656 pyeong)
8,168㎡
(2,471pyeong)
Total
64,793㎡
(19,600 pyeong)
36,649㎡
(11,096 pyeong)